our story
born from an industrial tile + marble store we leverage 45+ years of stone experience to create home decor items from forgotten stone. we maintain a strong focus on sustainability by repurposing the old + minimizing waste in the new.
we use marble, granite and onyx from around the world to create objects that are too beautiful to ignore. our goal is to bring a little intention into your otherwise daily routine, rendering that routine a ritual.
we fabricate from slabs, by hand, in Queens, NY.
SUPERBLOOM Catchall
We have teamed up with New York based jewelry brand NOTTE, to create a limited edition jewelry catchall.
The original Superbloom Catchall, is made using one of Italy's most iconic marbles: White Carrara. Inspired and named after one of NOTTE's signature designs, the marble follows the same whimsical silhouette of the Superbloom pendant.
The brands aim to introduce an intentional piece for your space that is both functional and ornamental while still embodying both brands' ethos. The piece is fabricated by hand in a honed finish, making it is silky to the touch and is sustainably made by using off-cuts from past projects. 
shop now
follow us on instagram @theparmatileshop for product styling + to learn more about stone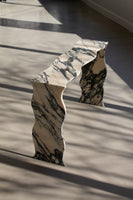 THE SQUIGGLE COLLECTION
The SQUIGGLE collection was designed with marble in mind. Originally imagined in Norwegian Pink, this form follows the bubbly nature of the stone. Its playful curves challenge the rigidness of the traditional. Its minimal construction provides a different experience from each angle.
All squiggles have been drawn by hand and then polished to their final form. Fabricated in Queens, NY.
see the collection
Location
the parmatile shop
29-10 14 Street
Astoria, NY 11102
mon - fri, 7:30 am - 4:30 pm
sat, 8:00 am - 12 pm
sun, closed